Most sessions are comprised of a 45-minute presentation followed by 15 minutes of live questions & answers with the panelists.
Registered attendees will receive the access link and code via email on April 28th. 
View our schedule at a glance here.
Thursday, April 29th
Opening Ceremonies
Thursday, April 29th – 12:00 pm EDT / 4:00 pm GMT
Luis Montoya '16, Programs Director, SSDP
Rachel Wissner '11, Director of Development and Communications, SSDP
Carol Ortega
Thursday, April 29th – 12:15pm EDT / 4:15pm GMT
Leader, visionary, and pioneer in the legal Cannabis Industry in the Americas. Founder & CEO of Muisca Capital Group, the first Latino investment management firm strategically focused on the emerging legal industry of medicinal cannabis. Carol serves on the Colombian government's cannabis policy making committee which has the ongoing challenge to improve the existing regulation, and was instrumental in Colombia's efforts in developing medicinal cannabis. Also, Carol has co-wrote the accounting and financial standards for Colombia, a legislation that converged the country regulations with international standards. In U.S. Carol has been an active regulator member in Oregon and California, states where Carol´s input has been instrumental in law writing and regulations affairs for cannabis recreational legalization efforts.
Panel: Drug use, culture, and religion
Thursday, April 29th at 1:15pm-2:15pm / 5:15-6:15 GMT
Adeolu Ogunrombi,

Member, West Africa Commission on Drugs

Isaac Ogunkola '19,

Chapter President, SSDP University of Calabar
In Africa, culture and religion inform policies, laws and value systems. These two beliefs stand firm against drug use and this is why drug policies in the continent are based on incarceration. There is need to draw the lines and strategies to overcome the hurdles during advocacy and outreach.
Networking Session: General Icebreaker
Thursday, April 28th at 2:30pm-3:30pm / 6:30-7:30 GMT
Join SSDPers from around the globe for a general networking session to close out day 1 of #Sensible2021. Attendees will have the chance to meet other drug policy activists and organizers from around the world in this general session and will be put into break-out rooms with other conference attendees.
Click here to join the Zoom meeting.
Friday
Networking Session: Visions of Liberation
Friday, April 30th at 12:00pm-1:00pm / 4:00-5:00 GMT
Moronfolu Adeniyi '14, African Development Consultant, SSDP International
Orsi Feher '16, Global Policy and Development Consultant, SSDP International
Robert Hofmann '16, United States Policy and Outreach Coordinator, SSDP
Oriana Mayorga '14, Board Director at SSDP and SPORE
During this meeting, members of SSDP will hold space for young people and other members of the drug policy reform movement to come together, share, discuss, and develop a collective vision of their ideal post-prohibitionist world. Participants of this youth-led exercise will explore a variety of topics, from honest drug education to decolonization, as we co-create our vision.
Click here to join the Zoom meeting.
Harm Reduction Over Incarceration for all Drug Users
Friday, April 30th at 1:15pm-2:15pm / 5:15-6:15 GMT
Bernice Apondi
Rita Gatonye
Wilson Box
Setting the stage of the global Drugs policy as it affects all parts of the world and yet governments are not adhering to these issues and changes in our global Drugs policy, especially Africa.
Introduction to SSDP's US Policy Council
Friday, April 30th at 2:30pm  EDT / 6:30pm GMT: Introduction to US Policy Council
Robert Hofmann '16, United State Policy and Outreach Coordinator, SSDP
Sarah Noon '18, US Federal Policy Liason, SSDP
Jason Ortiz '08, Executive Director, SSDP
Oriana Mayorga '13,

Board Director of SSDP and SPORE, Policy Council Consultant
Last year, SSDP launched the U.S. Policy Council, providing a space for members, alumni, and supporters to directly organize and affect the policy work of our organization. After the groundbreaking victories for drug decriminalization in Oregon and multiple cannabis legalization measures in 2020, now is a critical time for our members to become involved in the policymaking needed to end the War on Drugs for good. This session will focus on the structure and roles of the Policy Council, including our Issue Groups, Tactical team, EveryAction Campaign Center, Training Library, existing toolkits, and other resources for members and chapters to develop policy and advocacy campaigns. The session will end with a 15 minute Q&A and a call to action to attend our virtual Policy Council meetings (second Thursdays of the month at 7 pm EST), a meeting of one of the seven Issue Groups of the Council, and participation in our meetings as we advocate for policy requests.
Panel: From Campus to the Knesset (Israeli Parliament)
Friday, April 30th at 3:45pm-4:45pm / 7:45-8:45 GMT
The main goal of this workshop is to find new ways to get to the "high windows" via presting the Israeli drug committee case study.
1. short brainstorming about open-air parties and festivals
2. introducing the situation in Israel in the last 2 years
3. asking – what can we do? what we have that can help us?
4. finding the breakthrough point (in every situation)
5. working with what we have
6. making new connections inside the bureau
7. moving towards changing policy
Michael Hoffman, Head of SSDP Isreal
Shaun Lacob, M.Sc. App Ed Psych
Saturday
Operation Drug Vote: Pushing for civil society coalition-building in the UK
Saturday, May 1st – 12:00pm EDT / 4:00pm GMT 
Hanna Head, Ph.D. Candidate, University of Birmingham Social Policy
Isabella Ross '20, Secretary, SSDP UK
Mat Southwell, International Drug Policy Consortium

Giulia Zampini, Senior Lecturer in Criminology, University of Greenwich
Experts suggest that we could be about to enter a new Roaring 20s in the post-pandemic period. A public re-embracing of sexual freedoms, alcohol and drug consumption, and festivals and parties is likely to follow. This could either become a point of conflict between the Government and the people or it could be a transformative moment of social change akin to the post-war 1945 period.
Panel: More than Just a Phase: Self-disclosure and stigma for lifelong drug use/users
Saturday, May 1st at 1:15pm-2:15 pm / 5:15-6:15 GMT
Moderator: Julia Hilbert '17, Overdose Prevention Specialist, Prevention Point Pittsburgh 
Amy Hildebrand '14,

HR Coordinator/Recruiter, 4Front Ventures

Axel Bilbao '13, SSDP Alumni
Michael Williams '15,

Co-Director, Decriminalize Nature Michigan ; Vice-President, Michigan DanceSafe ; Board of Directors, Michigan Psychedelic Society

Peter Moinichen,

Chicago Drug Users' Union
So often substance use and experimentation are thought of as a phenomenon of youth. We work to de-stigmatize drugs but rarely talk about how drug users actually incorporate them into complex, colorful, and productive adult lives. This panel will explore dimensions of self-disclosure including in what settings it is appropriate and how one's experiences are often based on differing levels of privilege. Hear from panelists of various ages and consumption habits.
Discussion: Finding Common Ground: A discussion about drug policy of the future and a constructive conversation about the decriminalization and legalization of drugs.
Saturday, May 1st at 2:30pm-3:30pm / 6:30-7:30 GMT
This session will be a debate between incrementalism, full drug decriminalization, and full drug legalization. Speakers Jules Hodge, Kat Ebert, and Nic Lewis will begin by defining their model, and will answer questions about labor rights, racial justice, and environmental rights. This session will be moderated by Marlo Holguin and Julia da Silva Peres.
Moderator: Julia da Silva Peres '20,

President of the OCC Chapter, MI

Nic Lewis '19, Chapter Leader, MSU SSDP
Jules Hodge '17, Co-President, SSDP at the University of California, Santa Cruz
Kat Ebert '18, Board Member, SSDP Board of Directors and President, MSU SSDP
Marlo Holguin '19, Secretary, SSDP Board of Directors and President of SSDP UT El Paso
Panel: The Intersection of US Drug Policy and the Treatment Industrial Complex
Saturday, May 1st at 3:45pm-4:45pm / 7:45-8:45 GMT
Moderator: Rachel Wissner '11, Director of Development and Communications, SSDP
Rory O'Brien '19, Digital Communications Coordinator, SSDP
Kevin Garcia '14,

Harm Reductionist and SSDP Alumnus

Lunadelmar Suescun '16, Board Member, SSDP Board of Directors
Ben Levenson, Chairman, Levenson Foundation
A strong opponent to harm reduction-, evidence-based drug policy initiatives has been the Treatment Industrial Complex. Why? We will explore how for-profit and moralism models impact advocating for change within this intersection of drug policy and the treatment industry.
Dance Party
This year the SSDP Dance Party will feature two of SSDP's musical talents.
Join the fun at SSDP's Twitch Channel: https://www.twitch.tv/ssdpofficial/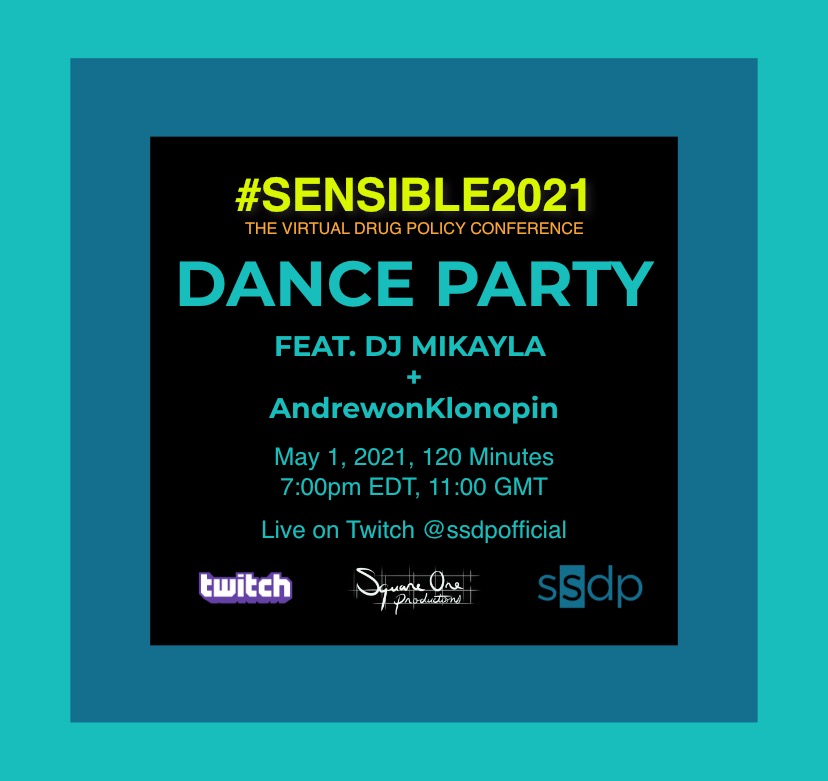 Sunday
Awards Ceremony
Sunday, May 2nd at 12:00pm-1:00pm / 4:00-5:00 GMT
This year the 2021 SSDP Awards Ceremony will be live-streamed to the SSDP Youtube Channel.
Panel: Law Reforms for Effective Response to Drugs and Related issues
Sunday, May 2nd at 1:15pm-2:15pm / 5:15-6:15 GMT
Maria-Goretti Ane Loglo *15, Africa Consultant for International Drug Policy Consortium
Charity Monareng, PhD Candidate at UCT and Parliamentary and Policy Research Officer, TB HIV Care
The theme of this topic will be purely related to the law Reforms in different country in Africa Sierra Leone to be specific, especially laws that are related to incarceration of people who use drug with no alternative for rehabilitation. This topic will help highlight some of these sections and clauses in some of our law books in some Africa countries that are unfriendly to drug user and humanity. This will prepare us for our advocacy for law reforms with specific references in the various law books.
Networking Session: Cannabis
Sunday, May 2nd at 2:30pm-3:00pm / 6:30-7:00 GMT
Christine Masse, Partner Attorney Miller Nash & Dunn LLP
Kendra Freeman, Co-Founder & CPO of MENDI
Kaliko Castille, President of Minority Cannabis Business Association (MCBA)
Tahir Johnson, Director of equity for Marijuana Policy Project (MPP)
Kebra Smith-Bolden, President of Connecticut United for Reform and Equity(CURE-CT)
Heidi Fikstad, CEO of Moss Crossing
Join us for a SSDP networking session with professionals within the cannabis industry. Attendees will hear from a variety of different professionals actively working in the cannabis industry and have the opportunity to ask our facilitating professionals questions during our Q and A break-out rooms.
Click here to join the zoom meeting!
Uplifting Latina/e Voices in the Psychedelic Space
Sunday, May 2nd at 3:00pm-4:00pm / 7:00-8:00 GMT
Vilmarie Fraguada Narloch, PsyD. '09, Director of Drug Education, SSDP
Oriana Mayorga '13, Board Director, SSDP and SPORE
Danielle Herrera, Harm Reduction and Psychedelic Psychotherapist, Harm Reduction Therapy Center & Sage Institute for Psychedelic Therapy
Paula Kahn, Decarceration & Community Investment Strategist Freedom For Immigrants, Cosmovisiones Ancestrales
Kaylie Tejeda, Co-Founder, The Wildflower Collective
It is no surprise that the field of psychedelics consists primarily of white bodies and other folsk living with social privileges. This session will serve as an opportunity to uplift the voices of Latina/e women in our community who will share their experiences of navigating the psychedelic space. Topics covered in our conversation will include the legacy of medicine women/Curanderas in this work, decolonizing psychedelic spaces, working with Latine clients in psychedelic therapy and spaces, and what we are doing to increase recruitment and access of more Latina/e psychedelic community leaders.
Closing Ceremonies
Sunday, May 2nd at 4:15pm EDT / 8:15pm GMT
Jason Ortiz '08, Executive Director, SSDP